How to Build a Horse Feeder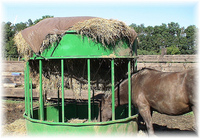 One of the drawbacks of horse ownership can sometimes be the costs incurred – little adaptations to the stables or paddock can suddenly leave the bank balance looking a little worse for wear. However, if you're looking to squeeze the pennies, you don't always need to splash out on fancy equipment – as this guide on how to build horse feeder facilities proves.


Feeding Your Horse DIY style

If the idea of dusting off the tool kit is enough to leave you in a cold sweat, there's no need to panic, as building a horse feeder isn't as hard as it looks. However, it does require a little thought, as the feeding process is essential to your horse's overall health and happiness, so you'll need a clean design, a simple installation and easy access. Follow some of these tips below:

• Buy a drum of a reasonable size, perhaps around 50-70 gallons. It doesn't particularly matter which material you use as both plastic and metal drums will prove effective. Bear in mind that for simple DIY, moulding a plastic drum into the shape of a horse feeder is far easier than using metal. Give the drum a thorough scrub, as you don't want the feed to become contaminated the first time you put the horse feeder to the test.

• Using a saw, cut the drum in half and smooth off any edges that could prove harmful to your horse during the feeding process. This shape will act as the tub.

• In order to secure the tub to a fence or a stable wall, use a drill to mark holes in the side of the tub.

• If you're looking to stand the feeder in an elevated position off the ground, build a wooden frame. The length and size of the frame needs to be considered carefully, as ideally, you want the feeder to stand at the most accessible angle possible for your horse to feed with comfort, without the horse being able to knock over the feeding tub.

• Secure the feed to the frame using wires and screws, and make sure the connection is as tight as possible to ensure it stays firmly in place over time.

• Finally, take into account the fact that horses need to eat small, regular portions every couple of hours. Therefore when you're feeding horses, ensure the feeder is designed so as little feed can be knocked to the ground as possible when feeding – you don't want your horse to overindulge on spilled treats in secret once you have finished your rounds for the day.
Articles