!—RADIUMONE POST BEACON TAG—>
Cobs horse - 11 yrs 16.1 hh - South Humberside
Can honestly say this fantastic girl has the biggest arse I've ever seen and that does include my ex-wife. She is enormous. Ideally suited to carry the heaviest of rider but as you can see from the video a 7 stone girl can handle her quite easily. She is not strong and very easy to do in and out of the stable. If your looking for a pet bear as well as a riding horse Clarissa fits the bill, she is a very affectionate horse who enjoys human attention and responds accordingly. Never a hint of a buck bolt or rear just a big heavy armchair type of ride. Safety out hacking is her main attribute but she does have 3 decent paces if you enjoy schooling. Clarissa is not a cheap horse as she is extremely well bred on both sides and comes from a long line of showing horses. Plus what
Category:
Cobs
Price:
£ 2,500
Horse's name:
Clarissa
Passport Organisation:
126
Age:
11 yrs
Height:
16.1 hands
Registration details
we're sorry, this ad is no longer available.
Latest ads in the same category:


Do you want experience, quality and care? Visit PRESTIGE HORSEBOXES for the ultimate in design and luxury.......why settle for less?
visit now >

New Season Stable Rugs From Just £29.99 + Free Delivery Keep your horse cosy with Weatherbeeta, Rambo, Rhino or Amigo
visit now >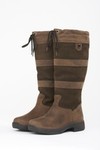 Stylish Dublin River Boots available in Dark Brown, Chocolate & Black! Now waterproof with HBR membrane and RCS footbed!
visit now >