Edit in sitelab
How to become a certified horse trainer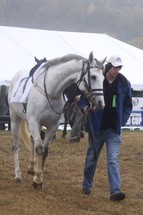 Become a Horse Trainer
Becoming a horse trainer requires a great amount of passion and dedication. Working hard for the qualifications to become a certified horse trainer will all be worth it once you can share your knowledge with students and work around horses everyday. For tips and advice on how to be a horse trainer see below.
S/NVQ stands for Scottish and National Vocational Qualifications, and were introduced by the government so that a clear and simple system was in place for those who needed qualifications in more practical areas. When you want to be a horse trainer this is a great certificate to achieve whilst looking for work and progressing in the horse training world.
Levels 1 and 2: Horse Care

Level 3: Horse Care and Management
These will teach you all the necessary skills for care and management that you will need in your aim to become a certified horse trainer.
Where to train to become a horse trainer
The places in which you can train to become a horse trainer vary. They could be an individual workplace, a specific training organisation, or an "umbrella organisation" which will take care of your enrolment amongst other things.
It is normally a good idea to check that the institution you train at is approved by the British Horse Society. To check this click here for more advice on where to go to work towards becoming a horse trainer.
Articles