Horse Grooming Show Tips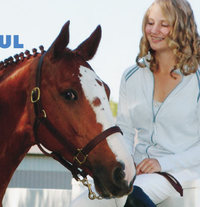 Horse Grooming Show Guide
If you have decided to show your horse then you must be prepared. The best groomed horses often win their categories so you should groom your horse extremely well to give you and your horse the best chance of winning. Here are some tips on how to groom a horse for show.
Horse Show Grooming – Essentials
1. The earlier you begin your intensive grooming routine then the better your horse will look when it comes to show day.
2. Pay plenty of attention to your horse's hooves by booking an appointment with the local farrier. This is a delicate job that requires plenty of appearance, so you should never attempt to trim hooves without calling on a professional who has expert knowledge of using the required horse equipment.
3. A horse's coat is the reflection of the diet the horse is being fed. An important part of horse show grooming is the diet that you feed your horse. Make sure you brush your horse lots and when supported with a healthy diet then his coat will look wonderful.
4. Each time you brush your horse you are stimulating oils that make the horse's coat shine.
5. If you live in a cold and wintery climate then you should blanket your horse. By blanketing him it will prevent him from growing a long furry coat. Beware though because if you blanket your horse and then forget to put on his blanket he could get sick because he has no long coat as protection from the cold.
6. If you take your horse inside and remove his blanket then you will need to brush his coat and replace it with a lighter blanket.
7. You will need to clip your horse for show. This is important and horses are usually clipped on the legs to remove the feathery hair below the fetlocks. In show grooming the horse's bridle path is normally clipped and so are the ears and whiskers on the muzzle and around the lower eyes.
8. You will need to practice clipping before doing it for the show because it is difficult. If you do it wrong you could injure the horse, if you clip it too late then the horse's could will not have filled out enough to have gained its shine ready for the horse show.
9. It is good practice to bathe your horse the day before the show, so the natural oils can return by the time of the show.
10. Once you have washed and conditioned the tail it is a good idea to braid it so that wood shavings and dirt cannot become trapped in it.
11. Don't brush the tail. Instead, pick it free of tangles and debris and spray it with coat sheen or de-tangling cream.
12. One tip for grooming a horse for show is to whiten the white patches on the horse's coat. To do this you can use talcum powder on the day of the show to do this.
13. Use hoof polish on the hooves and rub them over with a rag to give them the ultimate shine.
14. You have finished, now you have the perfect horse for show, so good luck and enjoy!
• It's often best to plan more detailed grooming procedures comfortably in advance of a horse show. For instance, clipping and trimming will need to be planned perhaps a week before the date of the show. It's also important to control the natural oils that can affect the appearance of a horse's coat, so bathing needs to be carried out at least 4 days in advance of the show.
Articles