Get a Job as a Horse Groom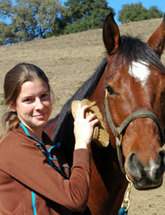 How to Get a Job Horse Grooming
If you truly love horses then a job as a horse groom might be the perfect career choice for you. Horse groom jobs include working with horses all of the time. You will get to know the ins and outs of a horse's lifestyle and how to care for horses correctly. You will groom, feed, exercise and pamper the horses in the stables and gain valuable experience. Being a horse groom will not make you rich but you can sometimes strike a deal where you can live for free in exchange for caring for the horses.
Working With Horses – The Essentials
Experience
As with any job it is important to have some experience under your belt. You can gain the experience you need quite easily. All you need to do is make sure you work with horses; it doesn't have to be paid work just volunteering to show you have a passion for horses is enough. Make sure you ride a lot, if you have your own horse then you can groom and muck out until your heart is content. Volunteering for some people who own horses is a good idea if you want to work as a horse groom as the owners can give you brilliant references.
Where to Find Horse Groom Jobs
Check in local newspapers for any horse groom jobs that might be available. You can check on horsemart.co.uk under services, they have lots of jobs in the equine world on offer; you might find something exciting. Visit local farms and ask if there are any jobs involving horse care. Go to your local tack shop and look for free horse papers they usually advertise for job vacancies. These horse papers also have lists of farms with contact numbers call them all. To further your search you can tell the workers in the tack shop you are looking for a job, word of mouth can go a long way.
Promote Yourself
If you are struggling to find a job then make a flyer with your contact details and experience with horses on it. You can then pin these flyers up in tack stores so people who might need help can see them and give you a call.
Articles