Edit in sitelab
Farrier Training Guide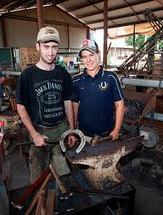 Are you considering training to be a farrier? These equine jobs are highly challenging yet thoroughly rewarding. A horse farrier is responsible for taking care of the hooves of horses, dealing with everything from making and fitting horseshoes, to trimming hooves to the correct angle. Find out more about farrier training with this guide.
What is a Farrier?
A horse farrier must be trained in veterinary medicine concerning the foot and lower leg of horses. The course to become a farrier is extremely old and dates back to 1796 when it was established by the Duke of York.
Farriers shouldn't be confused with blacksmiths – both work with metal, but farriers specialise in treating horses' feet and only they are permitted to fit them with horseshoes. The craft of farriery has been around for hundreds of years, and is a very hard and physical career. A skilled farrier will have sound practical and theoretical knowledge, be able to shoe all types of feet including defective ones, make shoes to suit all types of work and working conditions, and be able to create shoes that can correct faulty limb action.
There are numerous tools used by farriers to take care of a horse's feet well. these include:
files and rasps to shape

shears for trimming

hoof knives for getting rid of abscesses
Qualifications
You must have a minimum of four GCSEs, grade C or above (anticipated grades won't be accepted), including English Language and Maths, and hold a Forging Certificate. (The Farriery Training Agency (FTA) provides information on this, which includes a forging exercise booklet.)
Or
You must have NVQ level 2, Communication level 2 Key Skills, Application of Number level 2 Key Skills and hold a Forging Certificate.
Or
You must successfully complete an Access Course, which includes units of NVQ at level 2, Communication level 2 Key Skills, Application of Number level 2 Key Skill and a hold a Forging Certificate.
Training to be a Farrier
You must work as an apprentice for four years and two months, employed by an Approved Training Farrier (ATF), a Registered Farrier who has been approved by the Farriers Registration Council (FRC) to train apprentices. The odd two months is a probationary period, during which time the ATF will assess your ability with horses.

In order to be eligible to join the Register of Farriers you must pass all college assessments, get an NVQ Level 3 in Farriery (an advanced apprenticeship will also require Level 2 Key Skills), pass the exam to get the Diploma of the Worshipful Company of Farriers, and complete the full four years and two months hands-on training.
Test
As these equine jobs are so important, The Forging Exam must be taken. This test is made up of 15 forging tasks. An online test must also be passed with questions relating to the topic. The Forging Certificate is issued on successful completion.
Funding
If you are aged between 16 and 18, you can be entitled to funding for farrier training. If you are 19 or older, funding can be given but your farrier apprenticeship employer may have to contribute £3,500 towards it.
Although training to be a farrier is traditionally a male dominated role, there is a growing number of females training for these equine jobs too.

This job is very physical and can put strain on certain muscles and joints. Employment is subject to a medical examination which will cost around £75.

There is no upper age limit on training to be a farrier.
Who can I contact to find out more?
The Farriers Registration Council – 01733 319911, or www.farrier-reg.gov.uk

The Farriery Training Agency - 0845 1188387, or www.farrierytraining.co.uk

Herefordshire College of Technology - 0800 0321986, or www.hereford-tech.ac.uk

Myerscough College (Preston) - 01995 642211, or www.myerscough.ac.uk

Oatridge College (Edinburgh) - 01506 864800, or www.oatridge.ac.uk

Warwickshire College - 0800 783 67 67, or www.warkscol.ac.uk
Articles