Equine jobs in Essex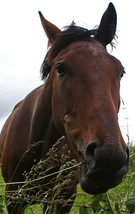 By Amy
The county of Essex is well known for its 'horse based' society and can provide many careers within the equine sector as well as training and qualifications.
The careers vary from general yard hands to competition grooms at stables in the area, however some of these jobs will require qualifications in order to be suitable for them, for example a job at a competition yard as a groom may require previous experience of various levels or a certain BHS level.
Also most jobs will require you to have a competent level of riding suitable for the level of the yard you will be working at, as at some yards you will be asked to exercise the horses and have to be able to be trusted to know what you are doing and handle a variety of possible situations.
Furthermore at most equine jobs the employers will require you to work full –time and with the hours of the equine world starting fairly early most employers provide on-site accommodation for their staff to ensure that they are on hand at all times.
Bringing your own horse may also be an option for some of these 'live-in' jobs and food and bedding may be inclusive or may be charged at an arranged rate that suits both employer and employee.
There are also opportunities to work on stud farms that are located in Essex, but in order to work in a position other than a general yard hand, they may require a degree in Equine Science or Breeding as it is a specialist area that many employers will expect the employees to have detailed knowledge about, though sometimes the employer will offer on-site training to their employees so that they gain first hand experience with the horses they will be dealing with on a daily basis as well as learning the knowledge they need to become successful in the job.
For those who do not have the time to work full-time or for students who are looking to gain valuable experience in the equine world summer jobs or placements may be available on various types of yard to suit the individual where most of the time the only necessary attributes is general experience with horses and a positive and flexible attitude.
These work placements can provide valuable experience and if given a reference can be used on your CV in order to better your chances of employment in the equine industry later in life.
Articles