Equestrian careers: Equine dental technician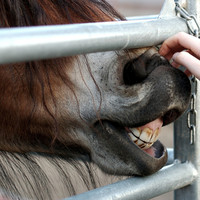 So, you want to work with horses but have no idea where to begin. It would be an exaggeration to say that there are an infinite amount of careers available in the equine industry, but safe to say there are many more than you might imagine. In this series of 'how to' articles, we take a look at a few and see if we can inspire you and point you in a new and previously unexplored direction.
What does it involve?
An Equine Dental Technician (EDT), looks after horses' teeth. The term dentist is strictly only used for human dentists, who have a degree in human dentistry. Working as an EDT is physically demanding, requires excellent horse-handling skills, and good communication skills as you will obviously be in close contact with the horses' owners. Equine Dental procedures fall into three categories. Category one can be undertaken by an EDT and includes procedures such as the routine rasping of teeth and the removal of calculus (tartar) which lies above the gum line.
The Department for Environment, Food and Rural Affairs (DEFRA), and the RCVS recently deregulated category two procedures. They are amended the Veterinary Surgeons Act 1966 to legally allow these procedures to be performed by qualified EDTs, providing they have trained and passed an examination approved by DEFRA. However, some of these procedures require anaesthetic, which must be administered by a vet. Category three procedures are considered strictly surgical and can only be carried out by a veterinary surgeon.
What qualifications do I need?
To become a fully qualified EDT will take many years of hard training. There are only three organisations that offer qualifications recognised by DEFRA – the British Association of Equine Dental Technicians (BAEDT), the Worldwide Association of Equine Dentistry and the International Association of Equine Dentistry. Out of these three, the BAEDT is the only one that requires its members to have passed the joint British Equine Veterinary Association (BEVA) and British Veterinary Dental Association (BVDA) exam, and is the only organisation to be recognised by BEVA.
Where do I start?
BEVA run a one-day introductory EDT course, which is a great way to get an idea of the knowledge and the type of work that will be required of you. It should help you to decide if this really is the career for you. Remember, attending this course doesn't mean you've qualified.
Who can I contact to find out more?
The British Equine Veterinary Association – 01223, 836970, or www.beva.org.uk

The British Association of Equine Dental Technicians – 01827 284718, or www.equinedentistry.org.uk

Royal College of Veterinary Surgeons – www.rcvs.org.uk

Hartpury College – 01452 700283, or www.hartpury.ac.uk
Photo: Schmilblick
Articles