Equestrian careers: Equine complementary therapist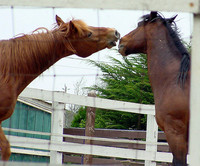 So, you want to work with horses but have no idea where to begin. It would be an exaggeration to say that there are an infinite amount of careers available in the equine industry, but safe to say there are many more than you might imagine. In this series of 'how to' articles, we take a look at a few and see if we can inspire you and point you in a new and previously unexplored direction.

What does it involve?
Complementary therapies are many, and cover all sorts of topics, so it will be difficult in this one feature to give them all an in depth look. We'll give you a general idea of what's out there, and if you're interested in a specific therapy, try and point you in the right direction to find out more. Whatever form the complementary therapy takes, it is used in conjunction with veterinary care and approval, to help maintain the animal's health. At no time can a complementary therapist make diagnoses or administer drugs – this is the realm of the vet, and the vet alone. There are in fact many vets who practise complementary therapy themselves.

Let's look at some of the therapies available, some of which are more recognised and accepted than others:
Acupuncture uses needles inserted on specific points on the body's meridians or energy lines to bring about change and healing

Aromatherapy works with the horse's sense of smell, to address unbalance in the body

Bach Flower remedies

The Bowen Technique involves gentle moves over specific points to rebalance the body

CranioSacral therapy is a holistic healing method focusing on the central nervous system

Crystals disperse negative energy

Divining rods mark and note areas of geopathic stress and energy levels

Feng Shui in the stable yard can help maintain balance

Herbal remedies can regulate and support the body systems of a horse

Homeopathy works on the body at cellular level, from the inside out

Hydrotherapy uses water to help heal injuries and restore muscle tone

Kinesiology looks at what strengthens or weakens the body, confirming dietary supplements

Magnotherapy uses magnets to alleviate pain

Osteopathy and chiropractic are manipulation techniques

Physiotherapy and massage works by manipulating soft tissue and uses noninvasive techniques

Reiki is a non-invasive healing technique that works through energy transference

Shiatsu uses stress point relief massage techniques

Tteam and Ttouch uses holistic training and massage

Vitamin and mineral supplements may be recommended by a vet – they can be added to the diet for balanced nutrition and body maintenance
What qualifications do I need?
You will of course find it useful to achieve diplomas in specific disciplines, which can be gained at various specialist training establishments across the UK. However, some courses are easier to come by than others – for training in more obscure therapies you may need to look further afield. The USA and Australia are particularly forward thinking in this area, and offer a wider spectrum of courses. If travelling this far to learn is beyond your budget or ability, then it is worthwhile looking into courses aimed at treating humans. The trainers will be able to give you advice on whether basic principles of the therapy are the same, and whether skills learned can be adapted to equines.

A solid knowledge of equines is beneficial before attending any specialist courses, and a degree in Equine Science or Equine Sports Science, or an HNC or HND in Equine Studies, will give you a great grounding before you specialise. Whatever route you take, you will need to hold recognised certification and liability insurance in your chosen field, before you start practising.

Where do I start?
There are so many courses available that we can't be specific about individual course requirements. However, if you plan to read for an equine science degree you will need English Language, Maths and Science GCSEs at grade C or above, and A levels that include a science, preferably Biology. For training courses, students are generally required to be over 18, hold at least four GCSE passes, one in English Language, and have some sort of equine qualification or experience under their belt. This could be the BHS stage 2 Certificate, a Horse Owners Certificate or Pony Club B, and at least three years experience in the equine industry, preferably at a professional yard or at competition level.

Who can I contact to find out more?
Photo: Linda Tanner

Articles