Career guide - How to be a groom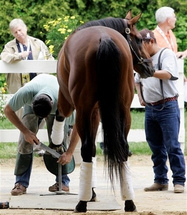 by W Honeywood
If you are considering a career as a groom you have to prepare yourself for some very hard work. Being a groom is not all about riding and grooming horses. It is about taking care of them in the truest sense of the word.
Being a groom is a strenuous occupation that involves mucking out, skipping out, filling hay nets, washing out water buckets and drinking bowls as well as grooming, exercising and turning out and bringing in horses from their paddocks, which means a lot of miles are covered throughout the course of a single week.
If you have been successful in getting a job as a groom, the first thing you have to learn is all the rules and the routine of the
yard
. You have to adhere to these one hundred percent. There are a lot of chores to be done in a yard which can include feeding the yard cats.
One thing that is an absolute must is to make sure that the yard remains spotless throughout the day. This means a lot of sweeping and tidying up as you are mucking out the horses. A lot of yards insist that a horses' feet are picked out before they are brought out of their stables, this is avoid them stepping out any muck when they are bought into the yard. It is a very good practice too.
In the course of day, you may find that you are expected to rake the arena to keep it nice and level for when people take horses in there to either school or exercise them.
It is very important to listen to anyone who is already in the yard and to watch each of the horses and ponies so that you get to know them and their actions and attitudes. If you are unsure of what is expected of you then ask the boss for a list of jobs you have to do on a daily basis, you will soon find that you get the hang of the routine.
Remember you will be expected to do as the boss does, so if hay nets are hung a certain way or the mucking out is done a certain way, you have to make sure you do it the same way as the boss. If you are joining a team, then ask if you can shadow someone who knows the ropes for a day or two, this is a great way of finding out how things are done in the yard.
One very important thing is to always dress as smartly as you can. Although it is a pretty mucky job being a groom, this is no excuse not to dress properly and wear good
horse-safe boots
preferably with steel toe caps.
Remember you will be expected to take care of the horses and this includes many jobs that often get forgotten, but at the same time you are working for someone who will expect you to behave well and dress appropriately.
Articles