Best Horse Careers: Riding Instructor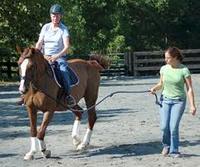 Some equine careers can benefit a large number of people. Being a riding instructor is the ideal way to make a big difference in the activity of horse riding. If you love horses and teaching people, then this is the job for you. There are numerous responsibilities involved in this job, but the overall aim is to teach people how to ride horses. Find out more about this career with the following guide.
Children
A riding instructor will mainly teach children of varying ages how to ride. Children as young as five-years-old could be students. For this reason, to be successful in these kinds of equine careers, you must be good with children and all people in general. As part of the job, the riding instructor can be expected to show children the basics in how to care for their horses. This can include grooming and other care too. Interpersonal skills are essential in this job role as communication with parents is part of the work.
Adults
It is not only children who want to learn horse riding. There is a surprising number of adults who wish to take it up later in their lives for many different reasons. Many adults are apprehensive and nervous about horse riding in a way that children do not tend to be. Their inhibitions can often make them anxious. This means it is up to the instructor to be able to comfort and encourage adults as part of their teaching.
Disciplines and Shows
For those who want to ride for show, the riding instructor must be able to teach certain skills for competition purposes. This can often include accompanying your students to shows for support, but also for last minute preparations at the show ground.
Articles