Best Horse Careers: Farriers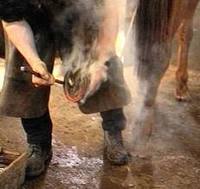 Farriers
can be considered some of the most important people when it comes to your horse's welfare. These equine careers entail caring for horse hooves and shoes. The work of a farrier must never be carried out by someone who is not qualified as this could be dangerous. For this reason, farriers must go through lots of training in order to become legally certified to perform their work.
Equine Careers – Getting the Job
•

Being a horse farrier is hard work and is a job that requires a great deal of dedication and skill. A job that has not been done correctly can have serious implications on horse health and could be dangerous for a rider too.
•

Farriers must make horseshoes, which is a skill that takes lots of time and training. They must take iron bars, heat them and then hammer them into the correct shapes. Nail holes must then be inserted.
•

A horse farrier is also responsible for the removal of old horseshoes. At this point, they carry out maintenance and trimming of horse hooves. The condition of the feet is checked then too. The new horse shoe is placed and fitted. It is easy to see why this job requires great physical fitness and stamina.
•

Agricultural colleges offer farriery courses, which is where the training for these equine careers takes place. To secure a job in this line of work you must undertake an apprenticeship with an Approved Training Farrier. In addition to this you will need an NVQ Level 3 in farriery.
Articles