Tips For Grooming Your Horse Before a Horse Show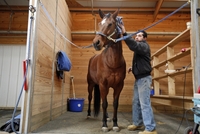 Learn how horse grooming can help you to shine at a horse show in this guide.
If you want to shine at a horse show, it's always important to make sure your horse is looking at its very best during equestrian competition. Therefore in the days leading up and the morning of the event itself, it's crucial to dedicate a little time to horse grooming.

Although the judges will be more interested in your actual riding technique, it's crucial to strike the right impression from the start by ensuring both you and your horse look the part as you turn out into the show arena. Find out a little more about horse grooming in the guide below.


Horse Grooming Guide: Preparing For Show

• The first thing to consider when carrying out horse grooming prior to a show is brushing. The horse's coat needs to be immaculate in order to impress the judges, so take plenty of time and care to brush any clumps of unsightly hair or patches shortly before the show gets underway.

• A number of specialist grooming brushes are available on the marketplace, and you can read our guide to putting together a horse grooming kit to learn more about this subject.

• It's often best to plan more detailed grooming procedures comfortably in advance of a horse show. For instance, clipping and trimming will need to be planned perhaps a week before the date of the show. It's also important to control the natural oils that can affect the appearance of a horse's coat, so bathing needs to be carried out at least 4 days in advance of the show.

• Pay plenty of attention to your horse's hooves by booking an appointment with the local farrier. This is a delicate job that requires plenty of appearance, so you should never attempt to trim hooves without calling on a professional who has expert knowledge of using the required horse equipment.

• Finally, give your horse the X Factor by ensuring your riding companion literally shines out in competition. Apply some baby oil to your horse's mane and tail to ensure your horse really looks the part as you attempt to wow the judges.


Find a horse show on Horsemart
Articles