Preparing Your Horse Before Clipping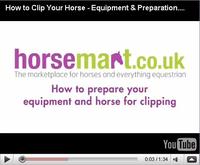 How To Prepare Your Horse Before Clipping
Make sure all mud is removed it will blunt the clippers which makes the horse clipping process much harder and time consuming. Similarly, remove as much grease from the horses coat as possible to speed up the process.

Make sure your equipment is set up and working and the circuit breaker is functioning properly, it is vital for the safety of you and your horse. Tie your horse securely and provide them with a hay net to prevent them from getting bored.

Test the clippers on the horse's shoulders to make sure he is happy and used to the noise and the feeling of vibration on his skin. Allow the horse to get used to them to make the process much easier.

Clipping the horse in a stable with a clean floor will make it much easier to clean up afterwards. Similarly, wear overalls or old clothes as horse hair can be quite hard to remove from clothing.
Articles