How To Groom and Feed a Horse for a Longer, Fuller Tail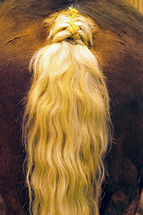 Horse Nutrition and Grooming
Having a beautiful long and flowing tail is very important for some disciplines. The thinner and more like human hair it is the better. This is not easy to achieve however so this article should help you with some horse grooming and nutritional tips on how to achieve a full and long horse tail.
Horse Care – Getting a Long and Full Tail
1.

Nutrition – your horse will need the correct nutrition in order to grow and maintain the perfect tail. Make sure your horse is getting the correct levels of Omega-6 fatty acids, Biotin, Methionine, Zinc, Lysine and Folic Acid.
2.

Brushing – take care when brushing your horse's tail. It takes seven years for a horse's hair to fully grow so you can pull them out much faster than they can grow back. If you start by gently brushing the tail from the bottom making sure you hold just above where you are brushing you will avoid pulling out any hairs. Some people choose not to use brushes and detangle the hair by hand. This takes much longer but will reduce the risks of pulling out hairs.
3.

Washing – keep the horse's tail clean, wash and condition it regularly. Try and find a shampoo that has a neutral pH and detangles and reduces scurf.
Articles