How to Care for a Horse on Stall Rest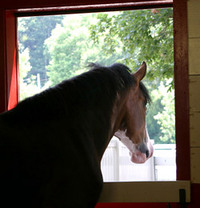 Stall Rest
How to Care for a Horse on Stall Rest
If your horse has been seriously ill, had surgery or serious wounds, stall rest is usually required. Horses do not like stall rest, they like to be outside, in the stall they get bored and slightly irritable. You will need to adjust your routine when your horse on stall rest to help both you and your horse get through it. Here are a few pointers on how to do this successfully:
1.

Move your horse to a stall with a good view of other horses this will give him company during stall rest.
2.

Get a stall with a window where your horse can poke its head through and get some fresh air without leaving the horse stall. This will also ventilate the stall decreasing the risks of breeding bacteria.
3.

Change your horse's feed so that he doesn't have excess energy, stall rest will be more frustrating for your horse if he has lots of energy he wants to use running about outside.
4.

If you are unsure about how to adjust your horses feed appropriately speak to an equine vet and they will advise you on how to reduce your horse's intake of carbohydrates, sugars and fats while still getting all the nutrients it needs.
5.

A top tip when a horse is on stall rest and has smaller portions of feed is to use a recreational feeder. You put the feed inside and it is expelled when the horse plays with it. This is fun and will help to keep him occupied in the horse stall.
6.

You need to give your horse lots of attention during stall rest. They miss the attention given during riding and boredom takes over. Your horse might display bad behaviour in a bid to get your attention; if this doesn't work he might slip into apathy. Make sure you groom your horse lots during stall rest and when doing other activities around the stall make sure you talk to your horse.
7.

When other horses are turned out your horse can get lonely. You can get around this problem by leaving a horse behind to keep him company or get a stall buddy of another species; this is an important part of horse care. Pigs, goats and cats often make good company for horses on stall rest.
8.

Chat with your vet and see if it is ok for your horse to do gentle movement while on stall rest. If this is ok you can keep your horse occupied through clicker training or basic ground manners. When training a horse on stall rest make sure you use low carb treats such as apples and carrots.
9.

Play games with your horse, you can play stall football and many other games are available to buy which your horse can play on his own.
Articles