Horse Shelter Information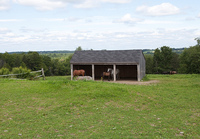 Tips to consider when looking for a Horse Shelter. Has some great advice whether you are looking to buy a horse field shelter or construct your own horse shelter.
About Horse Shelters

Horse field shelters have become a major industry in recent years as more and more owners look to accommodate their horse or herd in the best possible comfort. Providing a healthy and secure living space for your horses will help improve their general appearance and performance whilst out riding, so it's worth spending time and money on installing or improving a horse shelter. After all, your horse is going to spend a lot of time there…
Horse Shelters – What To Think About
• Constructing a horse shelter needn't blow a massive hole in your back pocket. Set a budget that you can reasonably afford, and consider what features might improve living conditions for your horse or herd, whether feed or shelter related.

• Whether you want to spend the bare minimum or thousands of pounds, there's plenty of choice out there on the market. Therefore, take the time to browse around as patience could help you secure the ideal horse field shelter for your requirements. Designs, sizes and building materials can all differ, so fish around until you spot something suitable for your own particular requirements.

• Depending on your ambition, you can consider anything from a smaller lean-to or loafing shed to an expansive barn. All are simply different forms of horse shelter.

• Health considerations should be at the forefront of your mind. Whether you're looking for a clean environment as security against the spread of diseases, or just need a place to keep the horses warm in winter, these considerations need to direct your thinking.

• Don't get downhearted if the budget doesn't stretch to that vision you had in mind. Sometimes the most simple horse shelter design can be just as effective in protecting your horses as more creative options. Remember, any shelter that you can provide is better than the horse having none at all.
Articles