Finding the perfect horse stables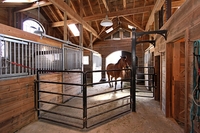 If you're buying a horse for the first time, it's crucial to pick the right type of stable for the needs of your horse. Riding stables can differ in both shape and design, and stalls are commonly used to separate and shelter individual horses. Whether you're planning to construct a private stable in which to house your herd or need a place in which to keep your horse safe, it's advisable to stay patient and browse around to find the best possible living environment for your horse.
Vital things to look for in your potential stable
There are a number of things you will want to keep your eye out for when you are looking for the perfect stable for your horse. Here is a list of some of the more important things that we feel you should look for.
Horses cannot stand to be outside in weather that is both windy and rainy, nor do they like being exposed to biting insects and flies in the summer. Shelter from these sorts of conditions is a vital part of caring for a horse.
As well as having a decent amount of shelter, the airflow and ventilation within the stable is also important. Remember, your horse will be spending a lot of its time in the stable so its comfort should be your main concern.
When looking around potential stables for your horse, it is always worth keeping an eye out for good bedding as well as good drainage. You don't want your horse to be stood on a hard and uneven floor and you also don't want it to be stood in its own urine. Therefore some comfortable fresh looking bedding and decent drainage should be available at the stable of your choice.
Some other things that are worth looking out for, include stable doors that are split in two, with the top half usually left open. As well as a grille between the stable walls for healthy horses to be able to see and communicate with each other whilst they are inside.
Tips to help you when looking for the right stable
Believe in the power of word of mouth recommendation – sometimes it really is the best way to find the right riding stables for your needs. Consult with local riders and any friends with an interest in the hobby, as their references could prove vital. It's all very well searching online for local horse riding stables, but the best way to learn about the way in which a stable or school is run is to seek out recommendations first hand.




Another good way of finding the best horse stables is to ask in tack shops; remember that people talk and bad news spreads fast. People who work and specialise in equestrian fields will be able to refer you to a riding stable with an excellent reputation.




Visit as many riding stables as you can – after all you will be making a major financial commitment by joining a stable, so it's important to see exactly where your money will be going. A reputable stable yard owner will be more than happy to offer you a tour of the premises and provide an introduction to the services the stable yard has to offer. If the stable owner is reticent about allowing you access to the yard without paying any money first, it's perhaps sensible to look elsewhere.




Ask to watch a riding instructor in action. The majority of people looking to sign up with a riding stables will be looking to take riding lessons, so in reality it will be the lesson quality that will be the key criteria as to whether a horse riding stables is suitable for your needs. A good riding instructor will recognise that every pupil will be different, so try and talk with the instructor after a lesson is complete to analyse whether they can help you in your riding development.




Write down the pros and cons of every riding stables you visit. Some may appeal more than others, but you'll need to balance up that decision with factors such as costs, opening times, the services and facilities offered, and travelling times to and from the stable.




Finally, be courteous when viewing different riding stables – even if you immediately take against the idea of joining up with the stables, it's important to be open-minded and assess all the options. Remember, stable staff will also be taking up some of their work time to convince you of the stable's virtues, so you should try and remain polite at all times even if your mind is made up.
Articles