!—RADIUMONE POST BEACON TAG—>
Broodmares horse - 11 yrs 1 mth 15.2 hh Dark Bay - West Yorkshire
REDUCED must sell due to finances beautiful well bred,with fantastic paces Competed affiliated dressage in foal to FURST KISS due july12 not a novice ride(can be mareish)
Category:
Broodmares
Price:
£ 1,950 OVNO
Horse's name:
daviani
Age:
11 yrs 1 mth
Colour:
Dark Bay
Gender:
Mare
Height:
15.2 hands
Breed:
Hanoverian
Registration details
we're sorry, this ad is no longer available.
Latest ads in the same category:


Do you want experience, quality and care? Visit PRESTIGE HORSEBOXES for the ultimate in design and luxury.......why settle for less?
visit now >

Come and experience the very best Mountain Riding Wales has to offer at Tregoyd riding holidays
visit now >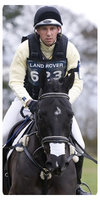 Alternative & unique natural health-care & feed products together with other original equestrian products!
visit now >