!—RADIUMONE POST BEACON TAG—>
All Rounder horse - 8 yrs 17.2 hh Black - Cleveland
Forest, 17.2hh 8yrs Black Belgium Warmblood Gelding, Currently Autumn Hunting with ourselves, Recently imported from Belgium where he has competed in show jumping and dressage. Very well schooled with a nice honest jump. This big lad is a genuine easy ride and will suit anyone wanting to do some amateur competing. He is currently autumn hunting with ourselves and is loving it. Excellent stable manners just a really nice big gentleman of a horse., £4750.00
Category:
All Rounder Horse
Price:
£ 4,750
Horse's name:
Forest
Age:
8 yrs
Colour:
Black
Gender:
Gelding
Height:
17.2 hands
Registration details
we're sorry, this ad is no longer available.
Latest ads in the same category: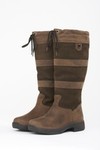 Stylish Dublin River Boots available in Dark Brown, Chocolate & Black! Now waterproof with HBR membrane and RCS footbed!
visit now >

We can offer you the ultimate in style, affordability, comfort and safety for you and your horses....
visit now >

Play on horsemarts new "yeigh or neigh" app and compete against other users horses!
visit now >