!—RADIUMONE POST BEACON TAG—>
All Rounder horse - 7 yrs 9 mths 16.2 hh Chestnut - West Yorkshire
This mare is definatly an oppurtunity not to be missed she is a very genuine and uncomplicated horse. I have competed at various different levels with her from local level jumping and dressage to BSJA jumping,she has also done some cross country. She will hack out alone or in company and is good to lead/load/clip and shoe. Snaffle mouthed but is not a novice ride. No vices and all tack and rugs are included.
Category:
All Rounder Horse
Price:
£ 4,500
Age:
7 yrs 9 mths
Colour:
Chestnut
Gender:
Mare
Height:
16.2 hands
Breed:
Warmblood
Registration details
we're sorry, this ad is no longer available.
Latest ads in the same category: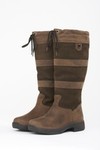 Stylish Dublin River Boots available in Dark Brown, Chocolate & Black! Now waterproof with HBR membrane and RCS footbed!
visit now >

Come and experience the very best Mountain Riding Wales has to offer at Tregoyd riding holidays
visit now >

Have the choice of a 3.5t horsebox or a 7.5t with living. Fully insured, with equestrian breakdown.
visit now >