!—RADIUMONE POST BEACON TAG—>
All Rounder horse - 13 yrs 14.2 hh Bay - Hampshire
Handsome 14.2 Bay Gelding, 13 years old. Has a good jump in him and a lovely temperament. 100% with farrier/vet/travelling etc. Loves good long hacks alone or in company. Easy to handle and a joy to have around the yard. Loving home wanted to enjoy life. Comes with lovely saddle that's less than a year old.
Category:
All Rounder Horse
Price:
£ 1,200 ONO
Age:
13 yrs
Colour:
Bay
Gender:
Gelding
Height:
14.2 hands
Breed:
New Forest
Registration details
we're sorry, this ad is no longer available.
Latest ads in the same category:


We stock a huge variety of boots, rugs, tack, show clothing and more! And we're giving you 10% OFF EVERYTHING this Spring Bank Holiday! Just enter promo code SPRING10 to claim your discount!
visit now >

These comfortable knee length boots are made from treated waterproof Redskin leather, keeping your feet cool and dry.
visit now >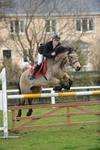 Welcome to Diamond's Equine Centre and Connemara Performance Ponies, located in the heart of the home of the Connemara Pony.
visit now >
Edit in sitelab