!—RADIUMONE POST BEACON TAG—>
All Rounder horse - 10 yrs 11 mths 16.1 hh Chestnut - North Yorkshire
16.1hh French TB Chestnut gelding (Ferdie) This lovely horse is a real character, snaffle mouth even x-country. He has lovely paces and works in a good outline. Very bold and careful x-country and show jumping, he has hunted and successfully pointed. Schooling well on the flat and a delight to jump a real potential event horse. Good competitive home wanted for this horse as he has the scope to go far with a more ambitious rider.
Category:
All Rounder Horse
Price:
£ 2,850 ONO
Horse's name:
Nectar De Guye
Passport No:
01302220S
Age:
10 yrs 11 mths
Colour:
Chestnut
Gender:
Gelding
Height:
16.1 hands
Breed:
Thoroughbred
Registration details
we're sorry, this ad is no longer available.
Latest ads in the same category:


13 yrs 17.0 hh Bay and 13 yrs 15.2 hh Liver Chestnut...
visit now >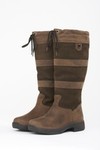 Stylish Dublin River Boots available in Dark Brown, Chocolate & Black! Now waterproof with HBR membrane and RCS footbed!
visit now >