Fill your brain with a plethora of equine related tips and advice from Horsemart. Learn anything from how to ride and care for your horse, what to feed it and much much more! You can even learn more about the orgins of your favourite breed in our breed guide section. Horsemart is not just the #1 marketplace for horses for sale, we also think it's important to share advice from horse experts and top riders!
---
Skin. We all have it, and chances are most of us take it for granted, but the skin is the largest organ on yours and your horse's body. Its importance to your overall health is huge, and your horse is certainly no different. Keeping skin in top condition isn't just down to good grooming, it can be achieved by feeding the correct nutrients, vitamins and mi...
---
The new Renewable Energy Heat incentive 'RHI wood pellet boilers' scheme has come into much controversy recently. However lately, a rather unusual use for the boiler has emerged. It has come out that the wife of a previous Ulster Unionist (MLA Neil Somervill) uses the system for the arrangement of her family business. The pellet boiler is used to run he...
---
Horses are like people, we all enjoy a treat once in a while. Something refreshing to help them cool down in the summer, or a treat, to reward them for good behaviour. Sometimes, and this is perfectly understandable, we might take a wander down to the paddock to feed them a treat for our own enjoyment. There's nothing better than watching your horse enjoy a treat from your outstretched hand...
---
Before taking that giant leap and purchasing your first horse, you will want to take a lot of things into account. For starters, it is vital that you appreciate the financial implications of taking on a horse. The number of abandoned horses in the UK is rising, and this is partly due to the fact that some people are unable to afford the cost of keeping these animals and make the purch...
---
Pick the perfect name for your new horse or foal Pick the perfect name for your new horse or foal Spring is prime time for picking the perfect horse name for your new foal, or maybe you made a new purchase on Horsemart and are now the proud owner of a young bay and fancy a name change? Whatever the reason, picking a good horse name wh...
---
Owning a horse means so much more than the occasional hack or competition. It means a level of responsibility to ensure your horse remains happy and healthy, and we of course do all we can to ensure this remains so. But with so much to consider, from providing a decent living environment to ensuring you are supplying your horse with the right levels of nutrition, this can sometime be a daunting...
---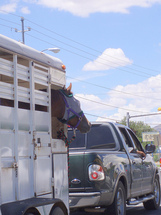 It is very likely that at some point, a horse owner will need to attempt to move their horse, either to a vet, to another stable or to a show. There are a couple of different methods for transporting a horse, each of which has their advantages and disadvantages. And there are a number of ways that you can help your horse cope with the process. In this guide we will help explain to you...
---
Even before the excitement of searching for the right stallion, two major decisions need to be made. First, do you have adequate facilities to breed a foal – the room, the finances, the time? It will be another four or five years before you can back the offspring and have cost a good deal more than buying an already mature horse! A foal is better off with company its own age – c...
---
The Exmoor pony is one of the nine native breeds of pony to be found throughout the British Isles. The pony originates from the moor in the south west from which it takes its name. The Exmoor for this reason is often seen as something of a pair with the other southwestern native breed, the Dartmoor pony. Although, both breeds are very different to one another. Work done by ...
---
Is the Appaloosa a breed or a colour? Well, like the palomino, it is one of those rare things, it is actually both. In terms of origin and development, the Appaloosa more closely resembles warmbloods in that there have been many and varied breed influences throughout the years so in this respect, it differs from other breeds which have a closely guarded gene pool. Historically the Appaloo...
---